Sunday, May 6, 2012
Full moon~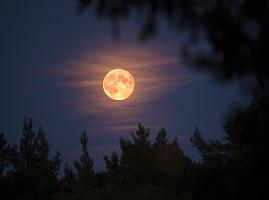 Andy and I were on the beach just after the magnificent full moon rose into the sky basking its yellow light on the shoreline. We were bathed in moonlight, delighting in the sounds of the surf, the feel of sand on our toes, while watching the moon rise further into the night sky.
What is it about the full moon that captivates us?
There's a gentle, silent yearning that stirs with the coming of the full moon. Our body cycles with the moon, our souls seem to quicken and awaken as if to say "pay attention" to the connection, spend a moment or two and feel our one-ness to everything and everyone.
Many years ago, a lifetime it seems, my yearning ignited a feeling of aloneness. I would look at the full moon and just want to go home. It was raw, painful, and lonely. Why am I here?
The full moon brings me home to myself. It is a reminder of our cycles here on this earth, of our individual journeys fraught with painful lessons, triumphs, love, and abandonments -- and ultimately of our connection to all that is.
So, I will continue to celebrate this magnificent moon tonight. To howl with her, to bask in her light, to delight in the shadows she will cast taunting me to look deeper, and to revel in her beauty.
Posted by

Intent Heals
at 4:11 PM